OMA揭晓在纽约布鲁克林的首个项目:相互咬合的双塔方案
OMA揭晓在纽约布鲁克林的首个项目:相互咬合的双塔方案
编辑:原源 | 2019.03.08 11:40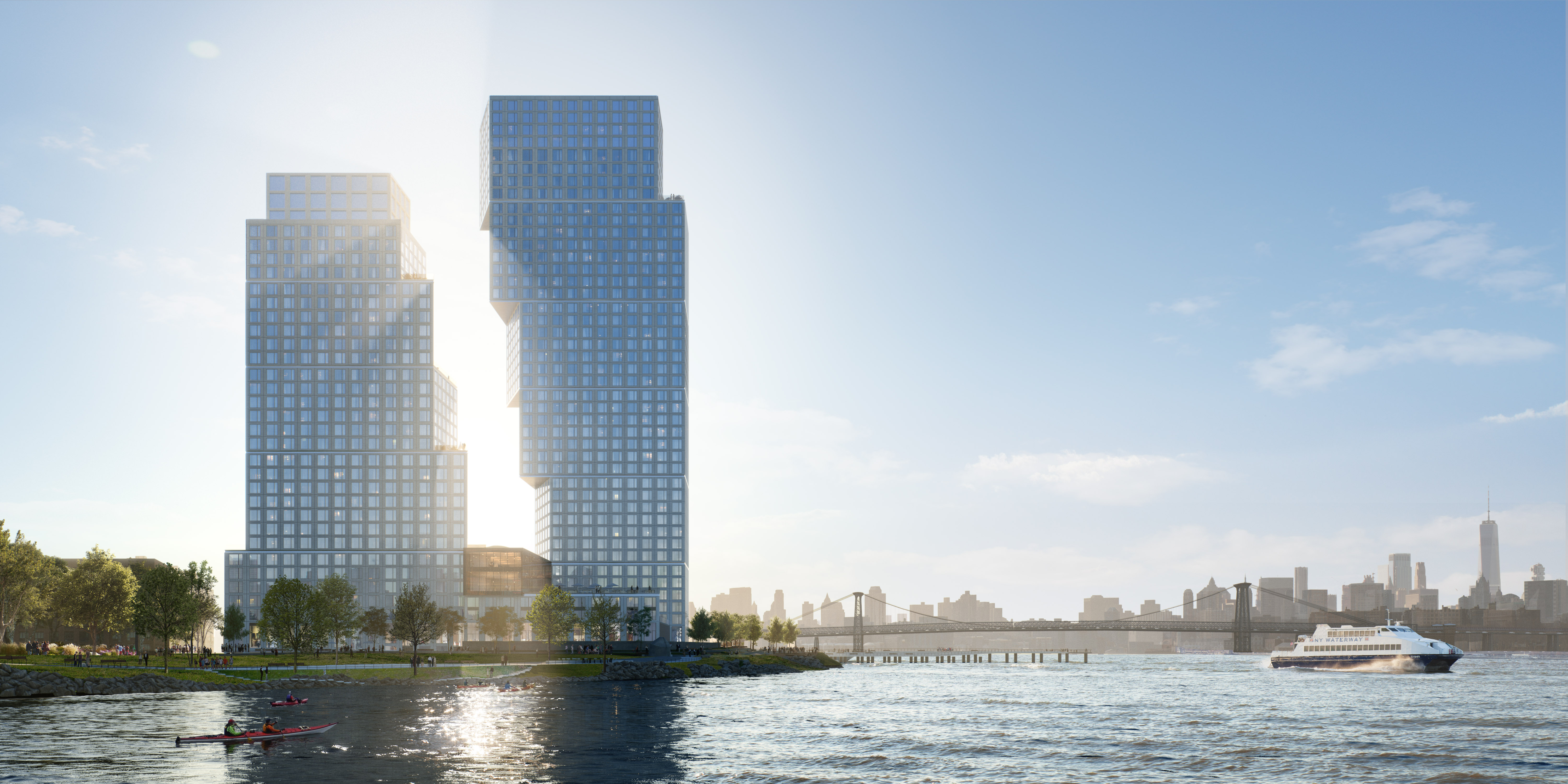 建筑设计  OMA / Jason Long
项目地点  纽约布鲁克林绿点区
项目状态  方案
总面积     850,844平方英尺
---
3月7日,OMA公布了其于纽约布鲁克林绿点区两栋新塔楼的方案。这两座塔楼,连同一座较低的七层楼,共将包含745套住房,其中30%是经济适用房,以及超过一英亩的新公共开放空间。该项目旨在激活布鲁克林滨水区从后工业时代环境向包容、充满活力的社区的转变。
March 7, 2019 – Brooklyn, NY – Brookfield Properties and Park Tower Group today unveiled two new towers at Greenpoint Landing designed by OMA / Jason Long. The two towers, in conjunction with a lower seven-story building, will bring 745 units of housing—30% of which will be affordable—and more than an acre of new public open space to the neighborhood. This project is OMA New York's first ground-up building in the borough of Brooklyn and will be a catalyst in the transformation of the waterfront from a post-industrial edge to an accessible and dynamic part of the neighborhood.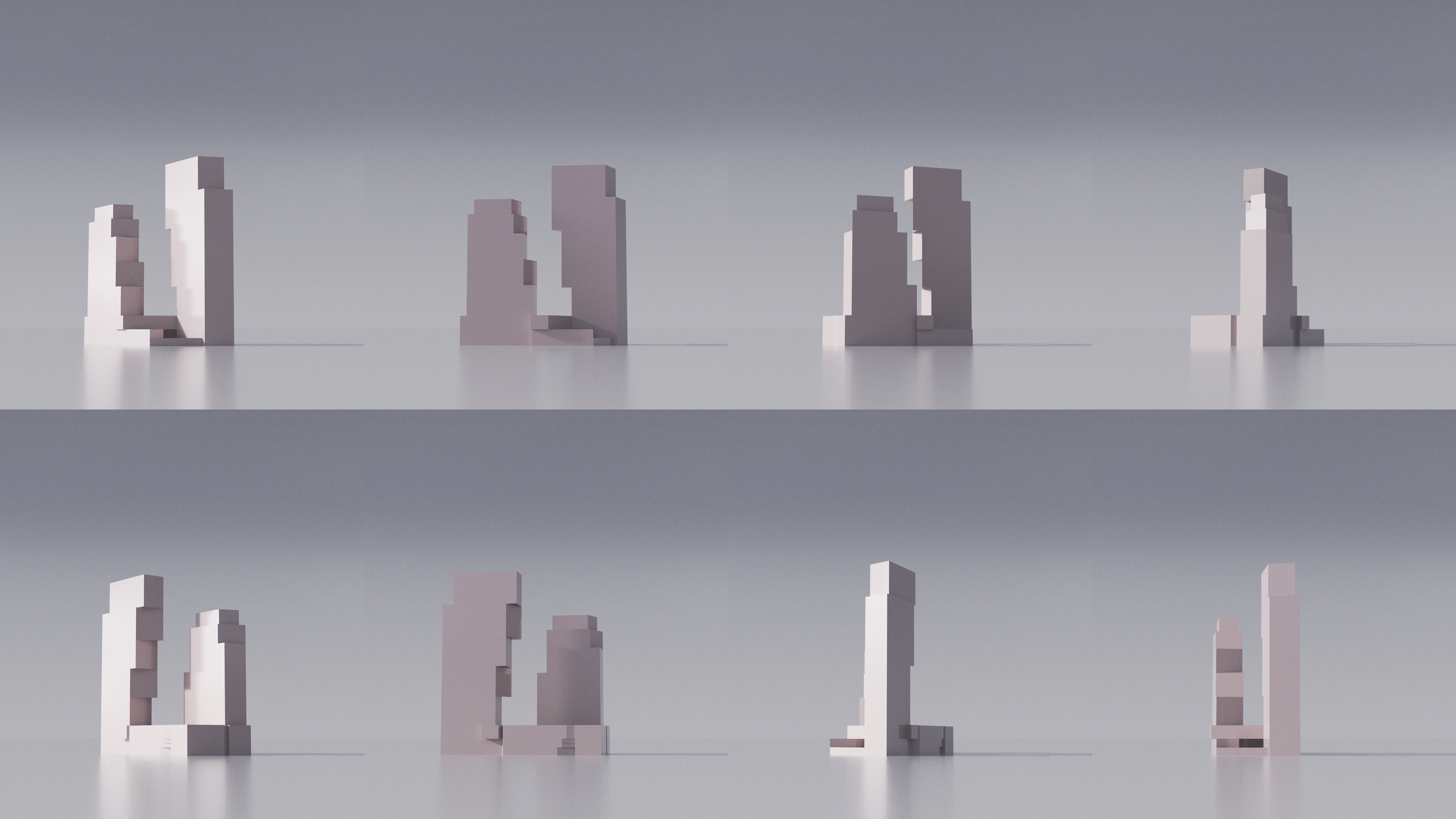 通过扩展鹰街和杜邦街,塔楼扩大了现有的公共滨水空地,沿滨线创造出共2.5英亩的连续公共开放空间,并将为社区增加8600平方英尺的底层零售场地。OMA负责此项目的合伙人Jason Long表示:"项目业主一直希望将温馨的绿点社区与它的滨水区连接起来,OMA很高兴能在事务所于布鲁克林的第一个项目上,与此合作。我们设计了两座经过仔细校准的塔—— 一座是金字型,另一座则反之。它们由彼此之间的空间定义,框起绿点区的一处新景观。"
By extending Eagle Street and Dupont Street, the towers will expand the existing public waterfront esplanade, creating a total of 2.5-acres of continuous public open space along the shoreline, and will add 8,600 sf of ground-floor retail to the neighborhood. OMA Partner Jason Long said, "Brookfield and Park Tower Group have been working together to connect Greenpoint with its waterfront, and we are thrilled to be collaborating with them on our first project in Brooklyn. We have designed two towers—a ziggurat and its inverse—carefully calibrated to one another. Defined by the space between them, they frame a new view of Greenpoint and new vista from the neighborhood to Manhattan."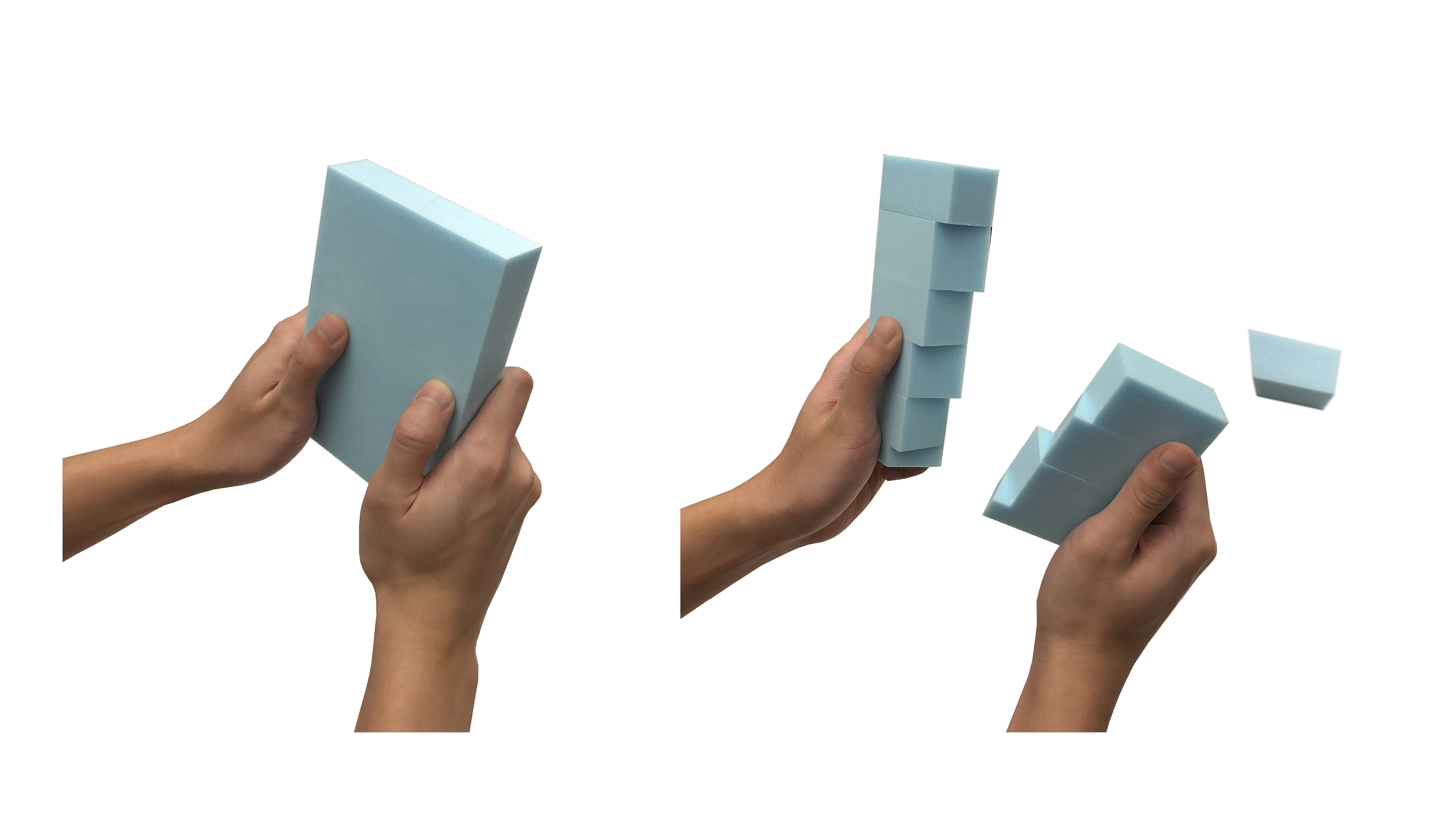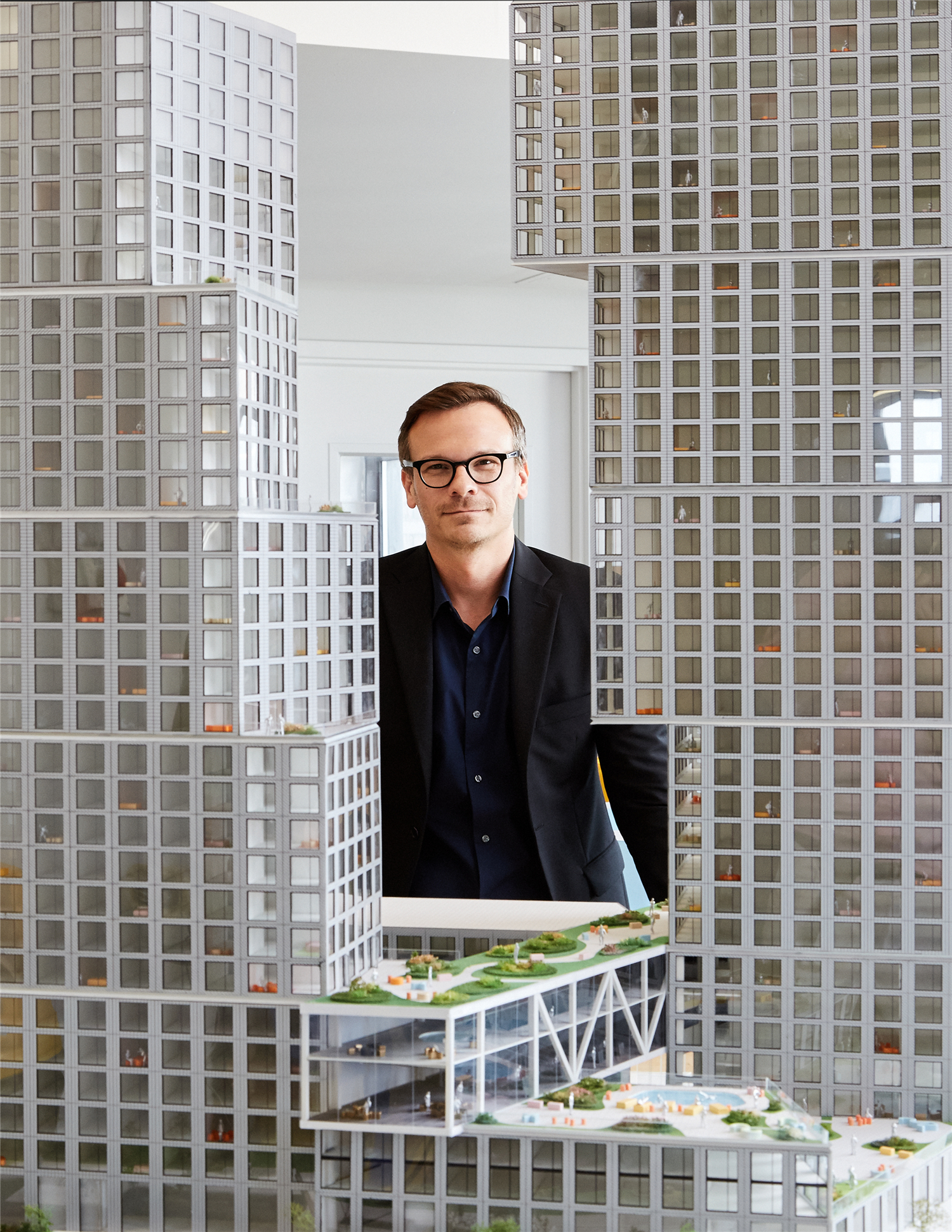 两座塔楼就像两个舞者,同时向内又向外倾斜。更高的那座在上升的过程中向东侧变宽,以此将视野最大化,并为周边社区创造了一个戏剧性的外观。与它相伴的另一座则从滨水区后退一步,实现了一系列大露台,向地面和新的滨水公园延展。
Like two dancers, the towers simultaneously lean into and away from one another. The taller tower widens toward the east as it rises, maximizing views and creating a dramatic face to the neighborhood and beyond. Its partner steps back from the waterfront to create a series of large terraces, widening toward the ground and the new waterfront park to the North.
在基地的对角,有另外两个较低的体量,它们与两座高塔一同围合出一个连续的空间。沿着这个边缘,是微小的褶皱,呼应着绿点区内变化多端的街区场景。
The towers are framed by two lower volumes on the opposite corners of the site, creating a continuous edge around the block. Along this edge, subtle folds and shifts mark entries and define a smaller grain reminiscent of the often-variegated street edge conditions within Greenpoint.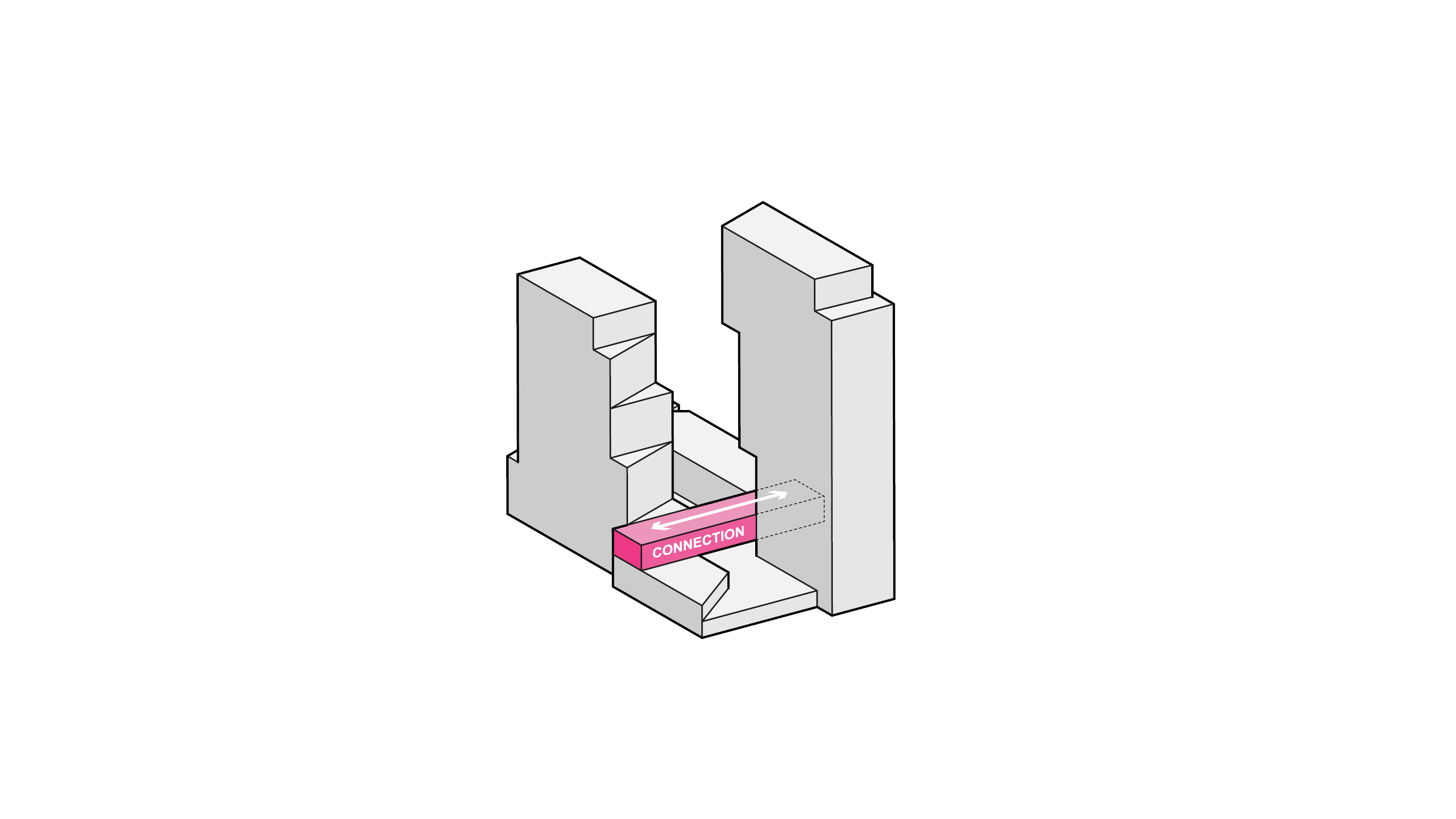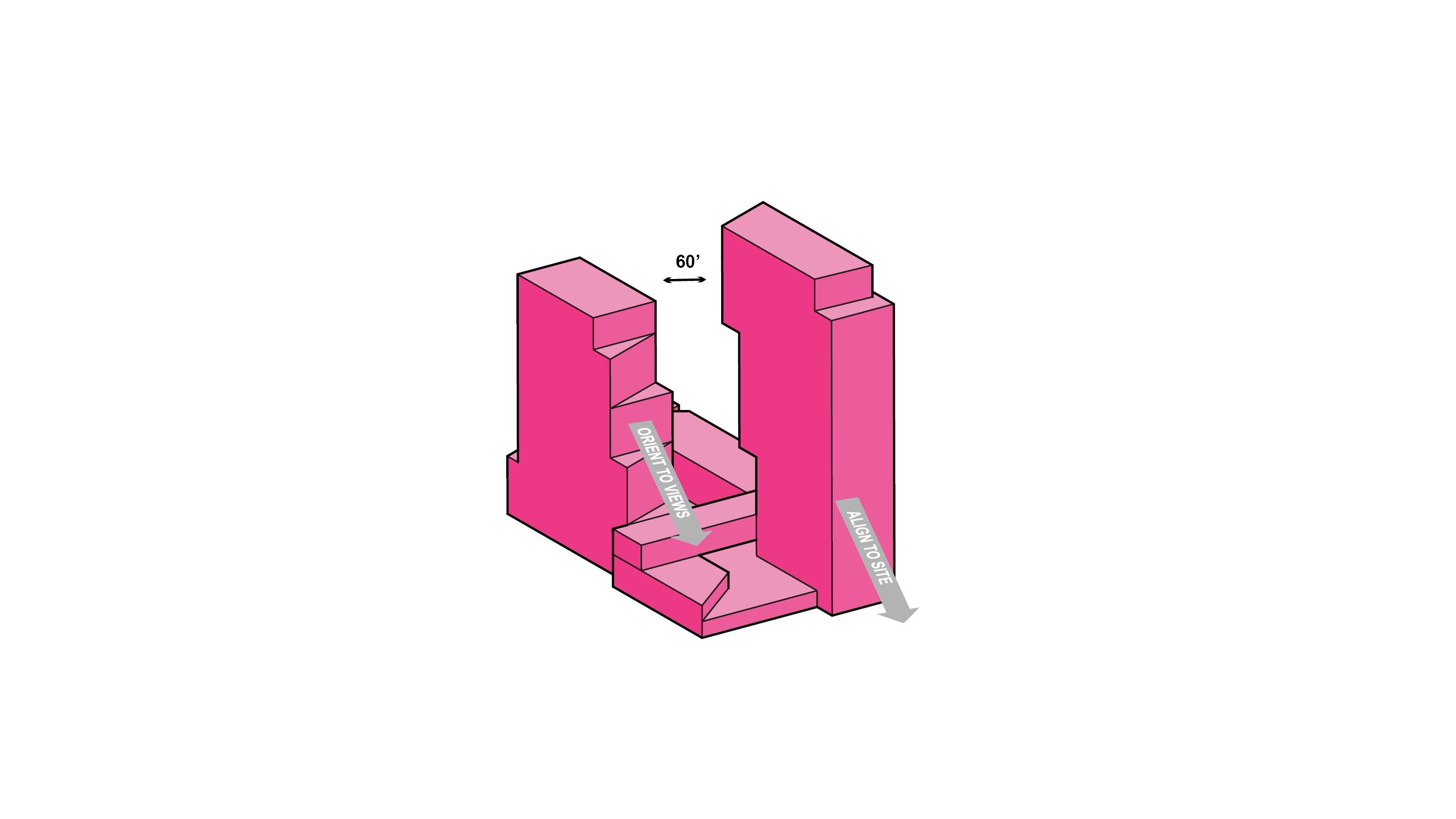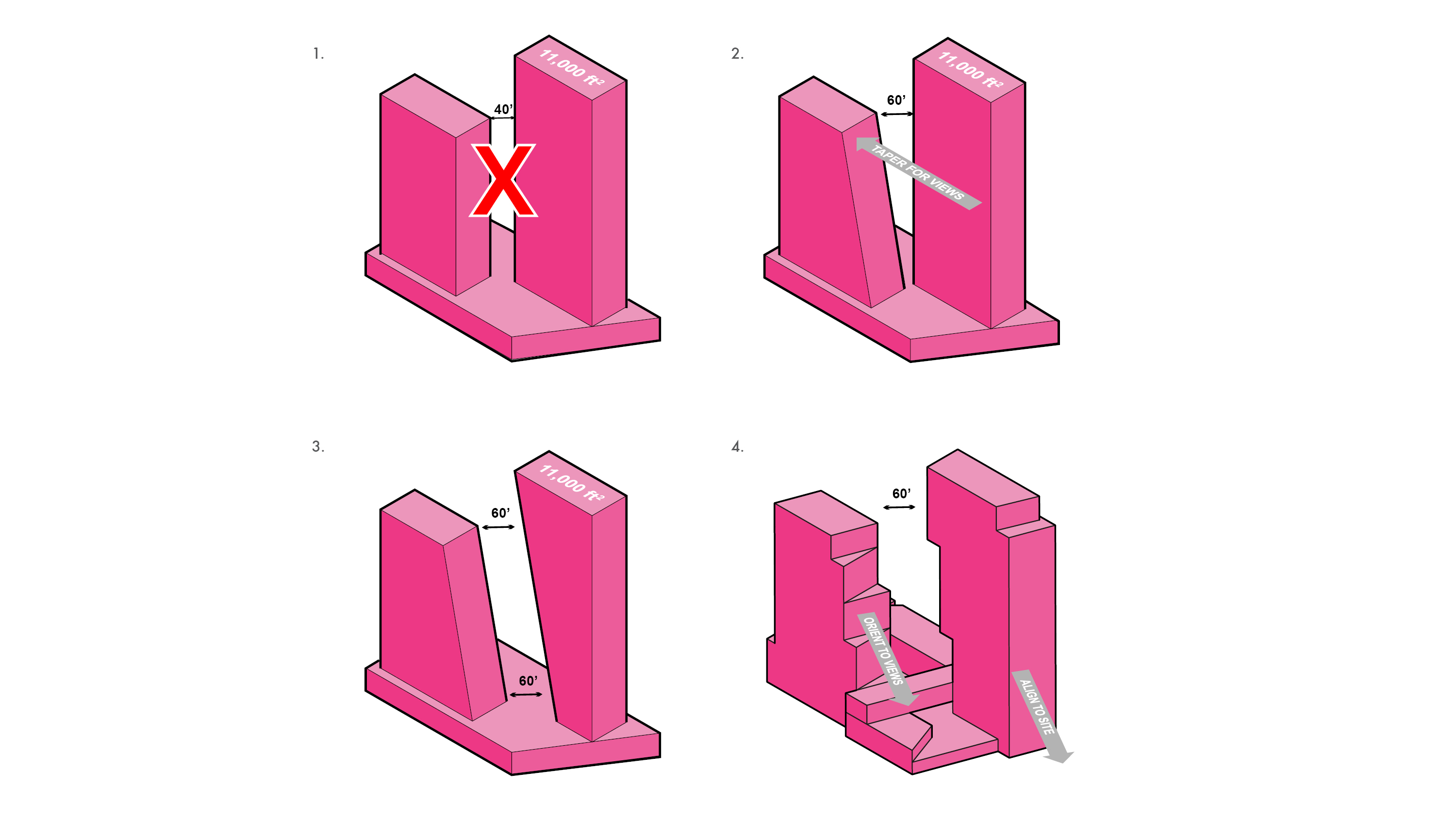 在塔楼的外立面,大窗户为预制混凝土面板所围绕。与建筑的形式相似,预制板也由一系列倾斜的平面雕刻而成。不同方向的角度,能在一天中对太阳的变化和运动做出动态的反应。
The towers' facades feature precast concrete panels surrounding large windows. Like the buildings' forms, the precast panels are carved by a series of angled planes. Oriented differently for each block—vertical, horizontal or diagonal—the carved faces react dynamically to the movement of the sun throughout the day.
设计希望将此前未充分利用的滨水区,改造成绿地区一处新的繁荣、宜居、可持续场所,为绿点当地居民和游客提供更多的开放空间,并重新刻画布鲁克林的天际线。此地景观设计由James Corner JFCO设计事务所完成。
"The addition of much-needed housing and creation of new, accessible open space are transforming this underutilized stretch of waterfront into a new thriving, livable and sustainable addition to Greenpoint," said Ric Clark, Senior Managing Partner and Chairman, Brookfield Property Group and Brookfield Property Partners. "These new developments with Brookfield will expand our beautiful waterfront esplanade, providing even more public open space for Greenpoint locals and visitors to enjoy, along with architecture that will define the Brooklyn skyline. With world-class landscape design by James Corner Field Operations, we are beginning to realize our transformative vision for a stretch of uninterrupted access to the Greenpoint shoreline," said Marian Klein, President of Park Tower Group.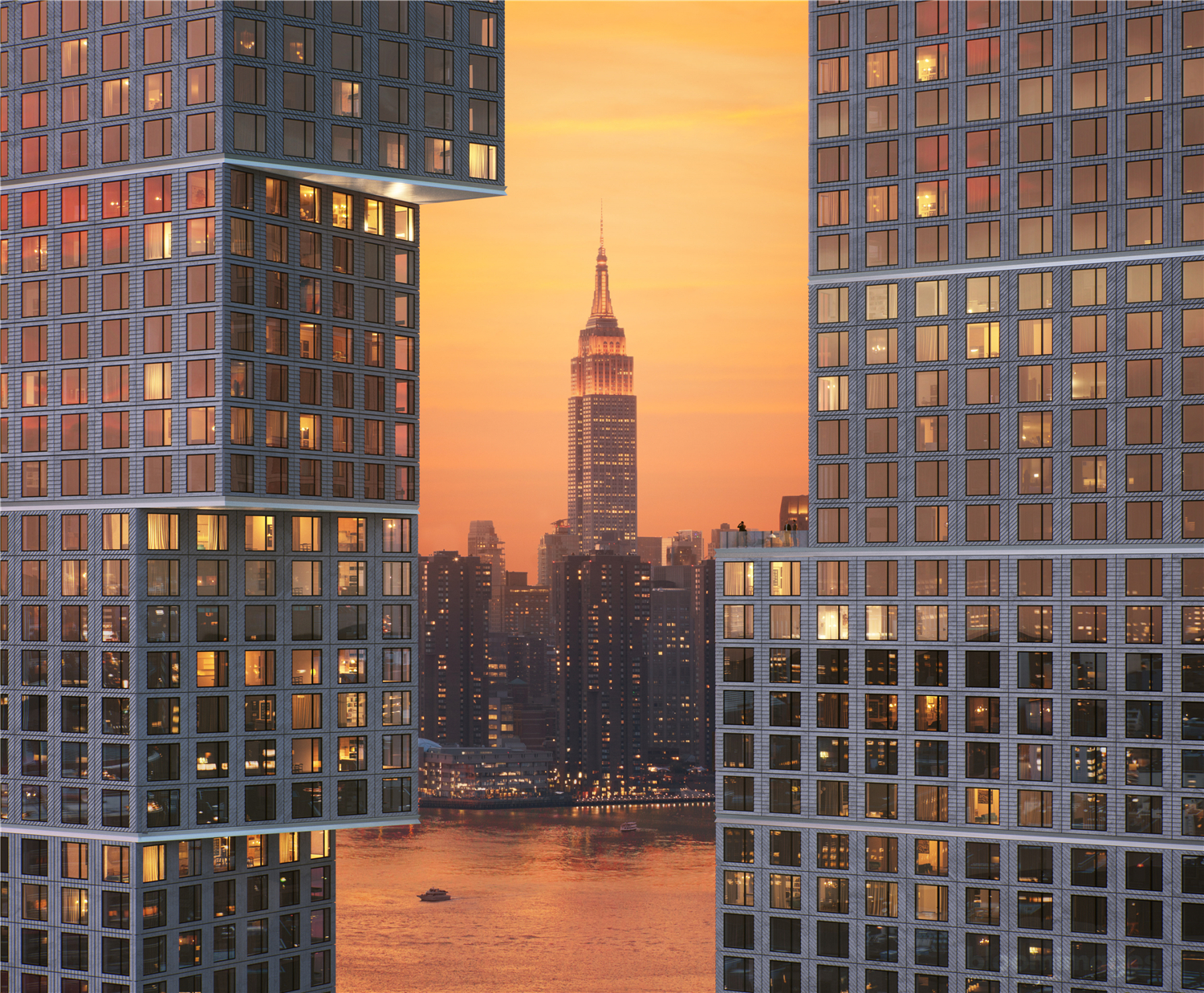 新塔楼建筑设计由Jason Long(OMA),项目建筑师Yusef Ali Dennis、Christine Yoon,执行建筑师Beyer Blinder Belle完成,并与Marmol Radziner(室内设计/建筑景观)和James Corner Field Operations(滨水景观)合作。预计今夏开始施工。
The new towers were designed by Jason Long (OMA) with project architects Yusef Ali Dennis and Christine Yoon, in collaboration with Beyer Blinder Belle (Executive Architect), Marmol Radziner (Interior Design/Building Landscape) and James Corner Field Operations (Waterfront Landscape). Construction is expected to begin this summer.
完整项目信息
Project: Two residential towers and lower podium with ground floor retail
Client: Brookfield Properties, Park Tower Group
Status: Competition February 2017; Construction Start August 2019
Site: Greenpoint, Brooklyn, New York, USA
Site Area: 122,929 SF
Total Area: 850,844 SF
Units: 745 Units Total; D1 335 Units; D2 302 Units; D3 108 Units; 30% (224) Affordable, 70%
(521) Market Rate
Distribution: Studio (0BR) 25% (183); 1 BR 46% (342); 2BR 26% (196); 3BR 3% (24)
Height: North Tower (D2) 300'; South Tower (D1) 400'
Credits:
Lead Design Architect: OMA
Partner-in-Charge: Jason Long
Project Architects: Yusef Ali Dennis, Christine Yoon
Team: Remy Bertin, Jingyi Bi, Sam Biroscak, Titouan Chapouly, Ken Chongsuwat, Marie- Claude Fares, Yashar Ghasemkhani, Anders Grinde, Wesley LeForce, Nathan Petty, Andres Rabano, Laylee Salek, Alan Song, Wo Hong Wu, Soojung Yoo, Steven Young, Juan Pablo Zepeda
Executive Architect: Beyer Blinder Belle Architects & Planners LLP Waterfront Landscape Architect: James Corner Field Operations Interior and Landscape Architect: Marmol Radziner
Structure: DeSimone Consulting Engineers MEP and LEED: Cosentini Associates Façade: Thornton Tomasetti
Lighting: Focus Lighting Acoustics: Cerami Associates Civil: Langan Engineering Wayfinding and Signage: MTWTF
Marine Engineering: McLaren Engineering Group
---
版权声明:本文由OMA授权有方发布,欢迎转发,禁止以有方编辑版本转载。
投稿邮箱:media@archiposition.com