九个柱子改变你对高层建筑的想象
作者: Olivier Ottevaere
|
编辑: 高天霞、原源(实习生)
|
2017-01-10 10:00
|
这组混凝土柱子,也许会颠覆你对高层建筑的想像。它们是一项名为"新秩序"的研究项目,该研究的建筑师是来自香港大学的助理教授Olivier Ottevaere,和设计师Elsa Caetano。研究正在进行中,他们期待探索住房的替代结构,主要针对高层建筑。研究项目使用混凝土浇筑九个原型柱式,以1:1的比例探讨结构原理,并将会拓展为1:100比例的建筑,在城市环境中进行测试。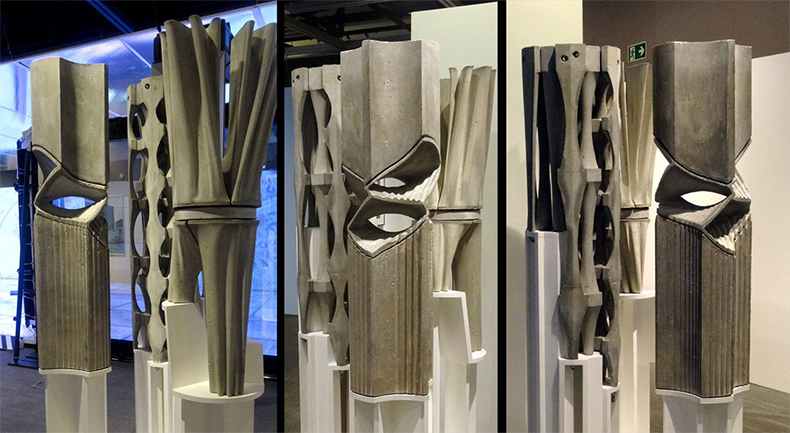 这一研究的主要目的,是为高层建筑提供新的结构阐释,期待以更灵活的方式完成一种程序到另一种程序的过渡。最终,可以给亚热带居民提供舒适、协调的户外公共空间。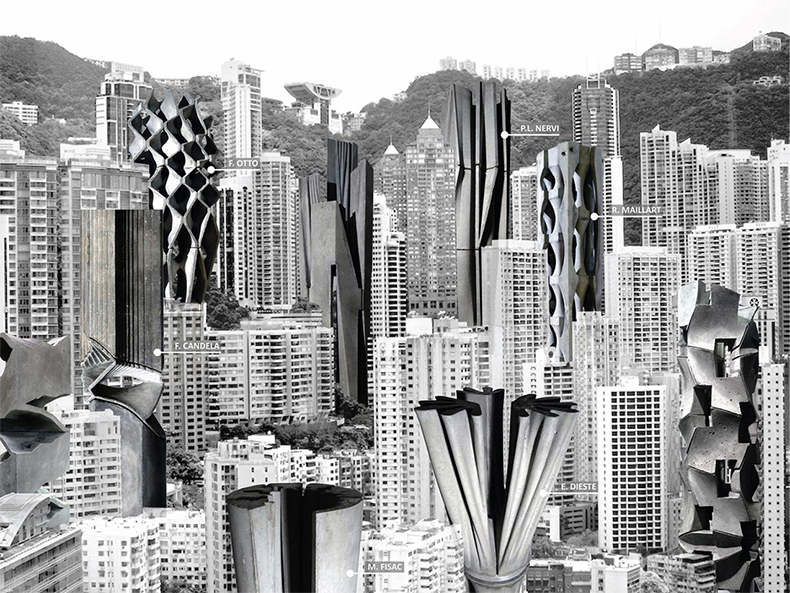 混凝土不仅仅是材料,更是研究过程的主要探索方式
九个原型柱子的制造采用了以经验为根据的方法,混凝土不仅仅是材料,更是研究过程的主要探索方式。为了设计出更灵活、更可持续的模板,Ottevaere采用了与混凝土的性质(从液态到固态)密切相关的误差实验,作为研究手段。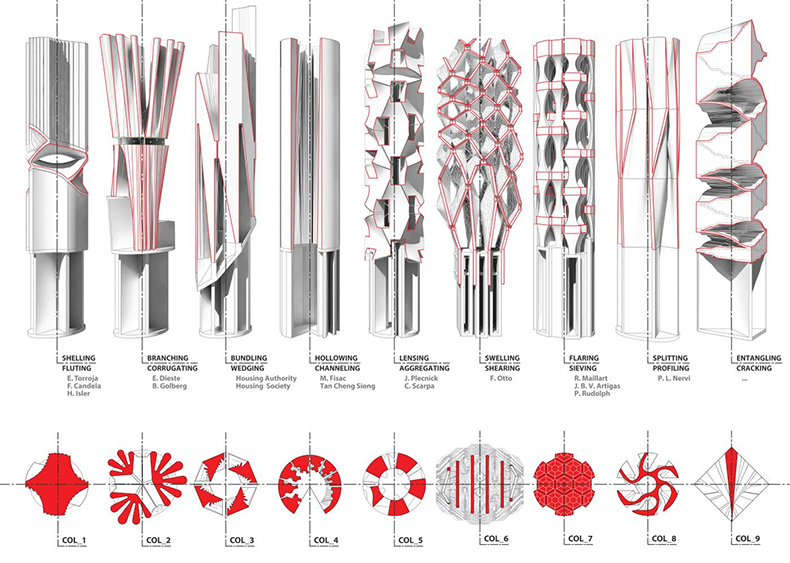 重新展开对"结构理性"的探讨
受到早期"结构理性主义者"(E. Torroja,F. Candela,PL Nervi,H. Isler,R. Maillard,E. Dieste等人)的影响,"新秩序"着眼于建筑结构特点的转变,试图复兴"点式高层"(point-block)这一垂直居住的架构。早期"结构理性主义者"使钢筋混凝土达到了新材料在结构和空间上所能做到的极致,但他们的开拓性工作多是在较低的建筑规模和单一项目上展开。"新秩序"在亚洲高密度生活的语境中重新展开对"结构理性"的探讨,试图打破混凝土带来的单一均匀化影响。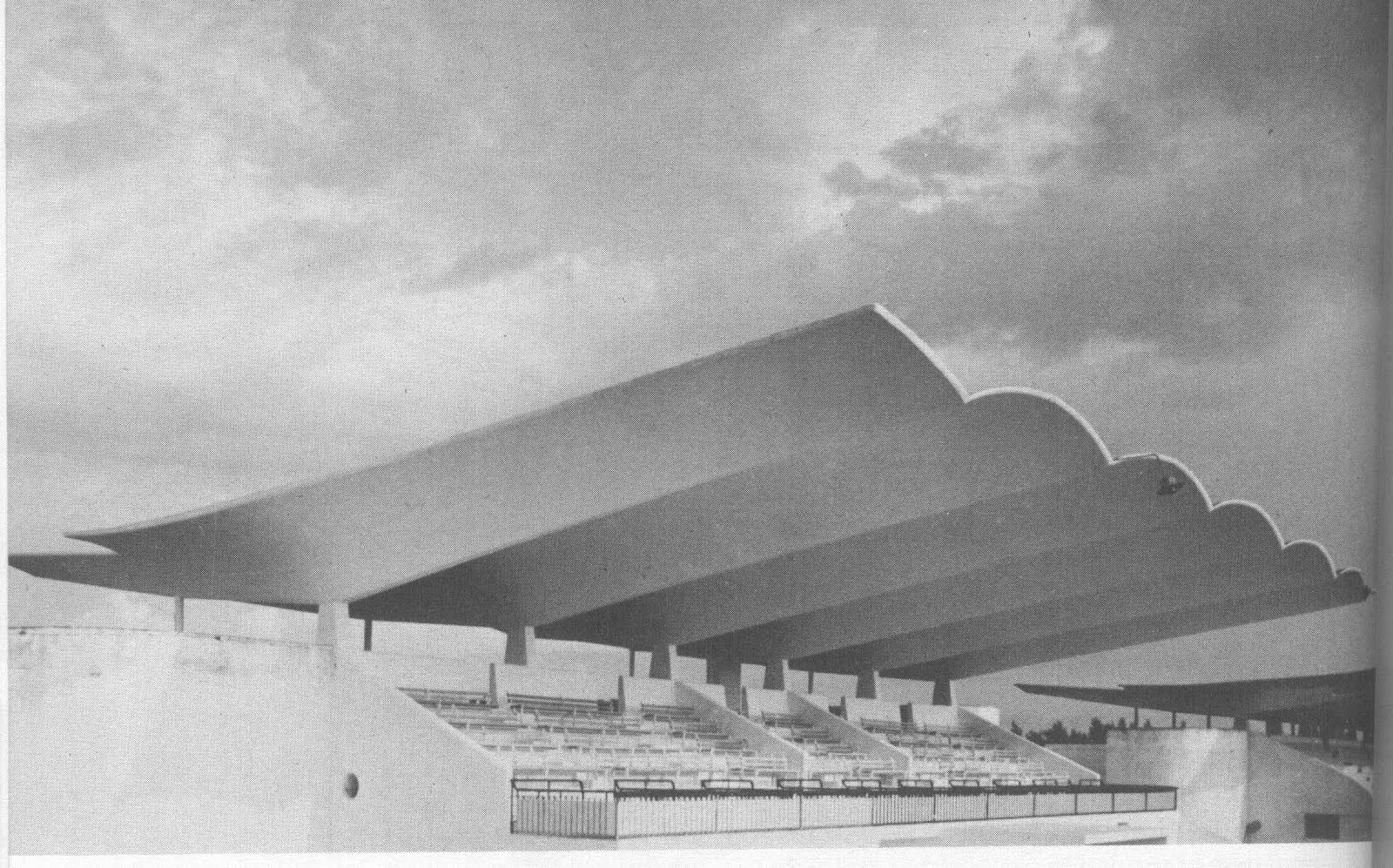 早期"结构理性主义者"Eduardo Torroja作品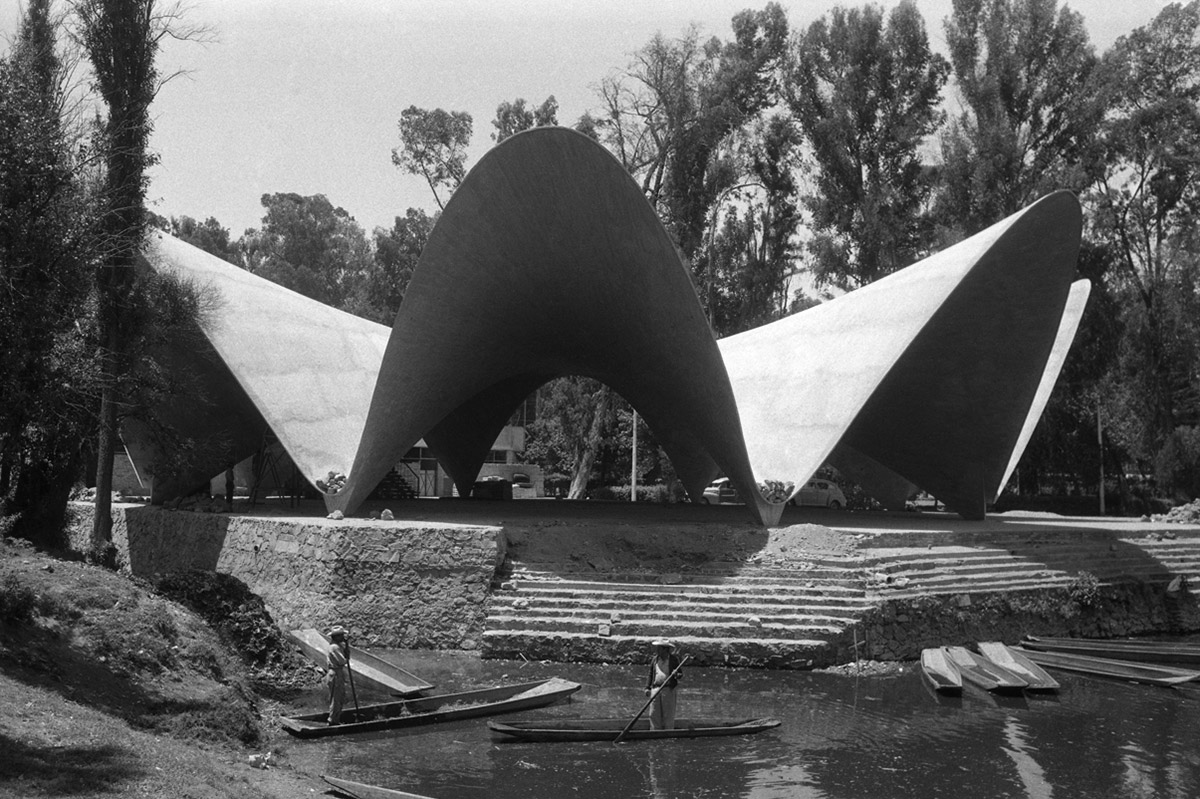 早期"结构理性主义者"Félix Candela作品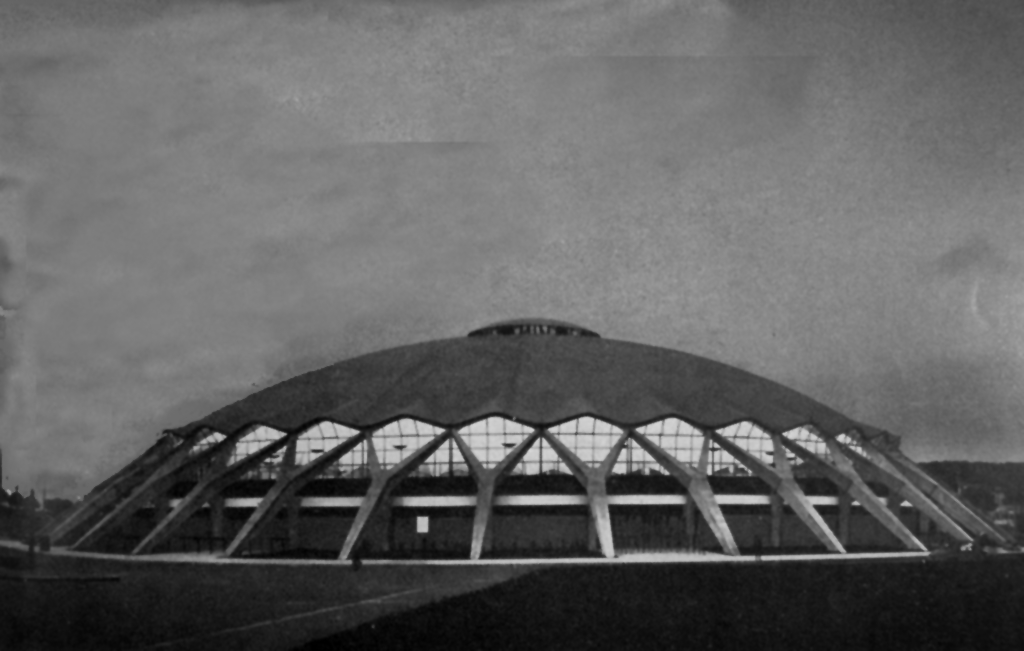 早期"结构理性主义者"Pier Luigi Nervi作品
现代的以混凝土为基础的居住模式在西欧被发明,为世界大战后的重建工作所推动。在战后重建中,西欧用现场浇灌混凝土框架的形式,来解决廉价住房这一迫切需求。在19世纪后期,Hennebique公司首次注册了这种灵活的柱板系统的专利,并将其广泛普及;后来,勒·柯布西耶在1914年将它推广为多米诺协议。混凝土系统的承诺是社会性的;它试图从内部解放建筑物,从建筑的结构性需求出发,来支持生活空间的个性化——此即"自由计划"。然而在一个世纪以后,这种已经无处不在的结构系统在很大程度上只取得了相反的效果:它建立了一个同质的秩序,以对相同生活单元的重复建筑为基础。
"新秩序"的一个主要研究理论是重新规划结构设计和施工程序,并将它们作为组织住房的新驱动力,以帮助打破现有系统的单调性。
柱 1:冲击和凹槽
Column 1:Shelling & Fluting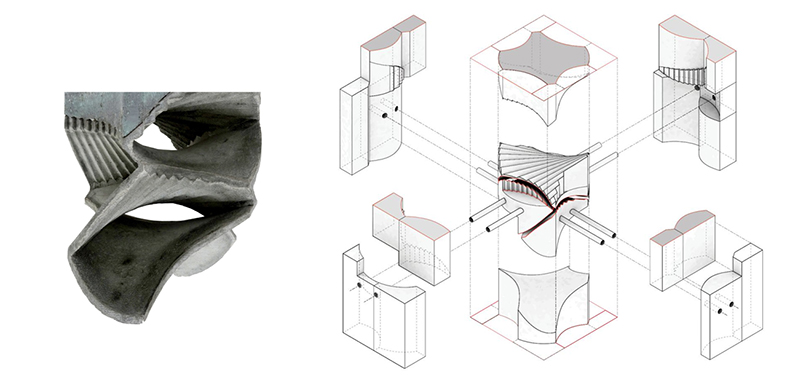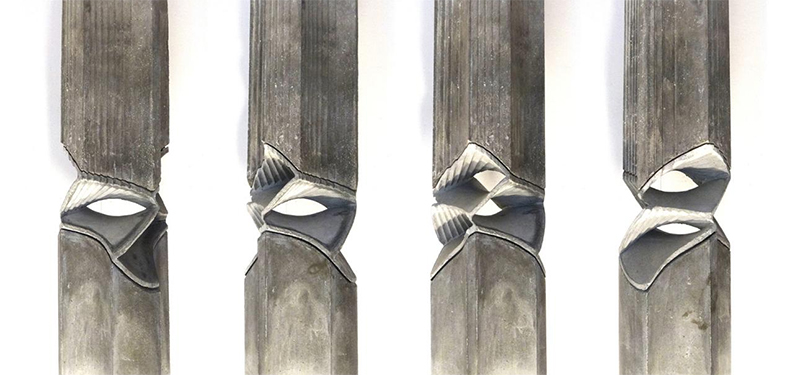 New Orders - in search of a new point block diagram for Hong Kong
This ongoing project explores a series of alternative structures for housing through a design-research prototyping process. Nine proto- structures are developed through the conception and realization of columns cast in concrete. The series explores specific structural principles at 1to1 scale, which are further architecturally tested as speculative towers for urban living at 1to100 scale.
柱 2:分支和瓦楞
Column 2:Branching & Corrugating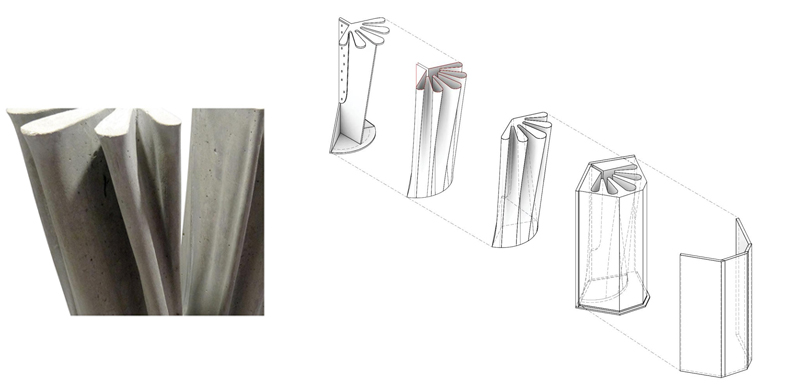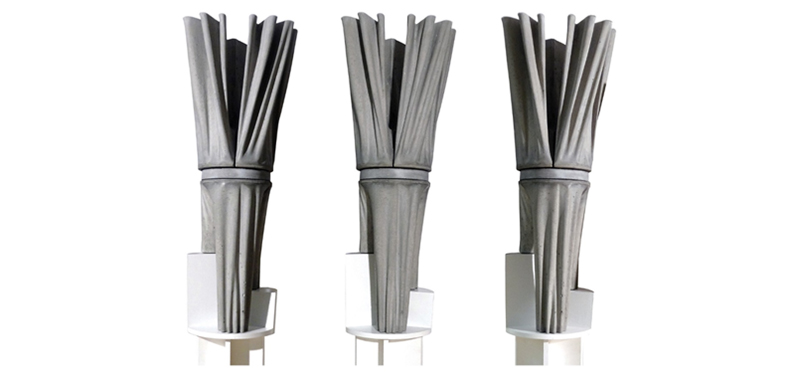 柱 3:捆绑和楔形
Column 3:Bundling & Wedging
At 1 to 1 scale, an empirical approach is adopted for the making of the columns. Concrete as process rather than just concrete as material sets the main methodology for the design-research. Trial and error experiments, closely related to the properties of the material (liquid to solid formation), seek to put forward new techniques of formwork design and construction procedures that are more flexible and more sustainable.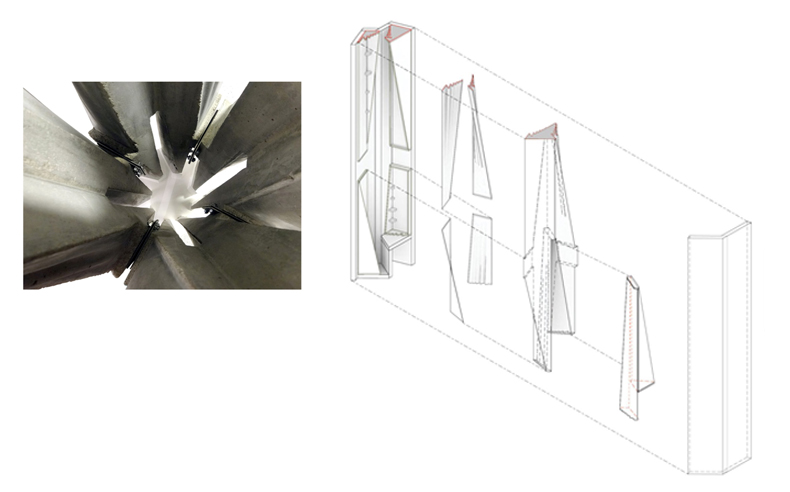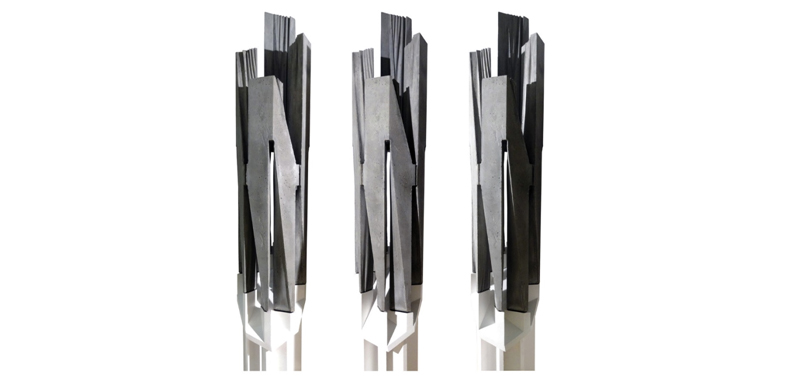 柱 4:空心和管道
Column 4:Hollowing & Channeling
Design analysis, informed by the work of the early 'structural rationalists' (E. Torroja, F. Candela, P.L. Nervi, H. Isler, R. Maillard, E. Dieste, et al.), considers the transformation of structural languages in an attempt to revive an architecture for vertical living (point-block).
While these structural mavericks took reinforced concrete to the limit of what the new material could do both structurally and spatially, their pioneering work responded, for the most part, to lower building scales and to singular programs (i.e. civic, cultural, religious); all but Housing. The research revives the dialogue in the context of high density Asian living. The dialogue is being pursued with new technology that breaks the homogenizing influence of concrete.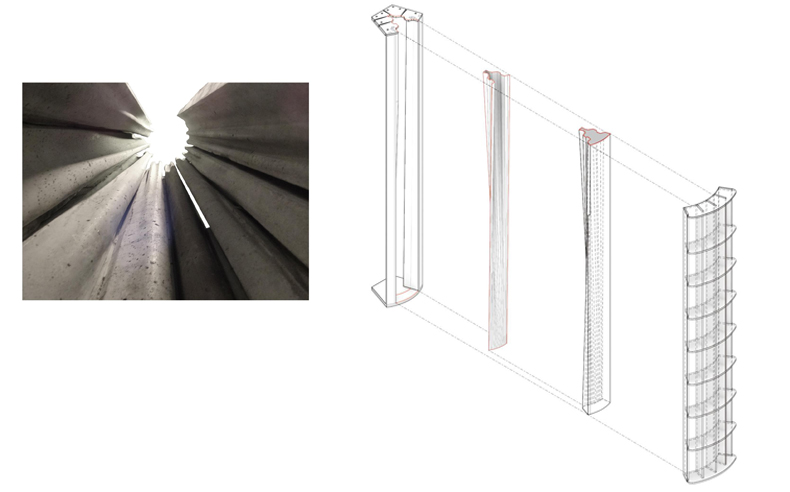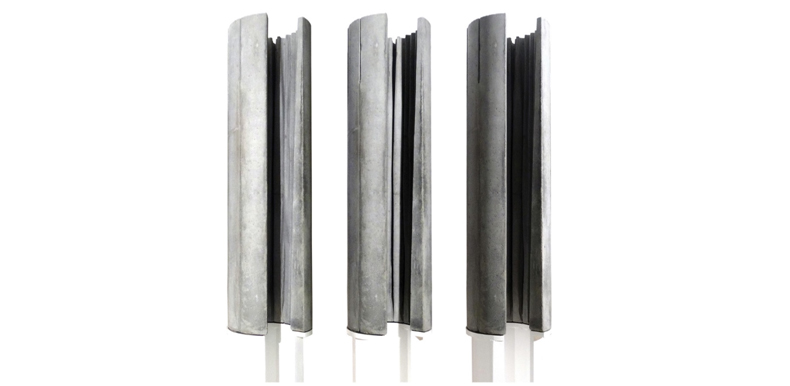 柱 5:聚合、透镜
Column 5:Aggregating and Lensing
The modernist search for concrete-based new models for living, fuelled by an urgent need for cheap housing after the world war destruction, was devised in Western Europe in the form of a cast-in-place skeleton frame. This flexible column-slab system was first patented and universally distributed by the 'Hennebique' enterprise in the late 19th century and later, in 1914, generalized by Le Corbusier as the Dom-ino protocol (domus-innovation). Its promise was social; to support individualization of living spaces by internally liberating the plan of a building from its structural imperatives ('Free plan'). A century later, this now ubiquitous structural system has largely achieved the reverse: mainly creating an order characterized by homogeneity based on the repetition of the same living units across building scales.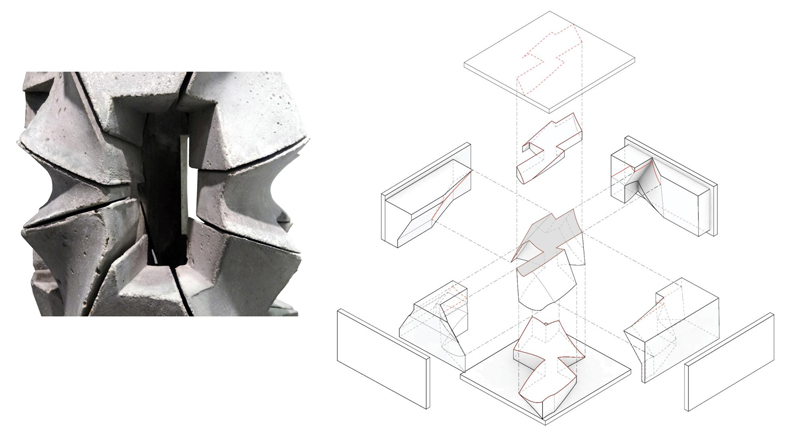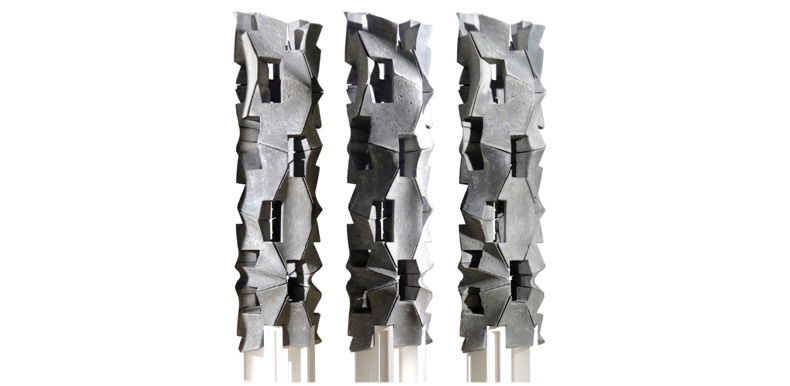 柱 6:膨胀和剪切
Column 6:Swelling and Shearing
The design-research aims to develop new structural articulations for high-rises that are more agile in negotiating the transition from one kind of program to another within a complex. These aim to provide residents with gradients of communal spaces that reconcile (semi-) outdoor living issues in a sub-tropical climate.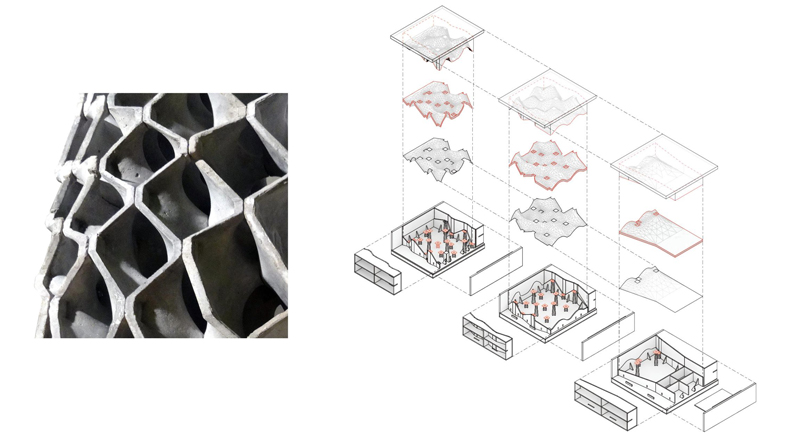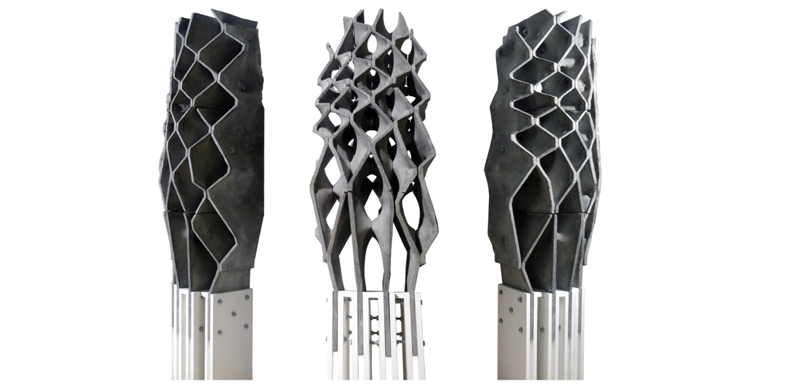 柱 7:燃烧和筛分
Column 7:Flaring and Sieving
One of the overarching research propositions is to reassert structural design and construction procedures as the main driver for new Housing organizations in a way that helps break from the monotony of current systems.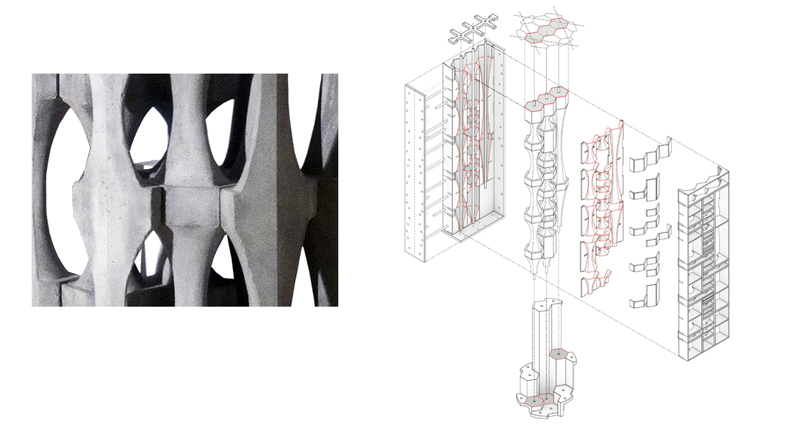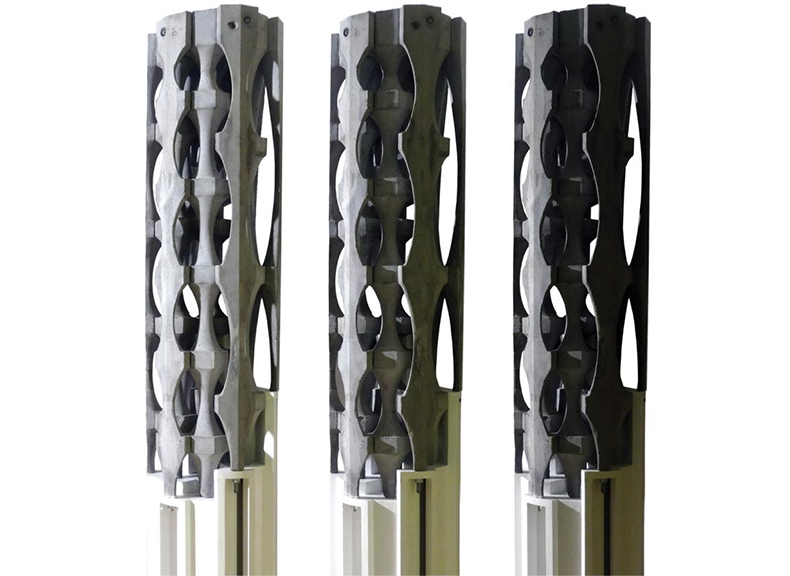 柱 8:拆分和轮廓
Column 8:Splitting and Profiling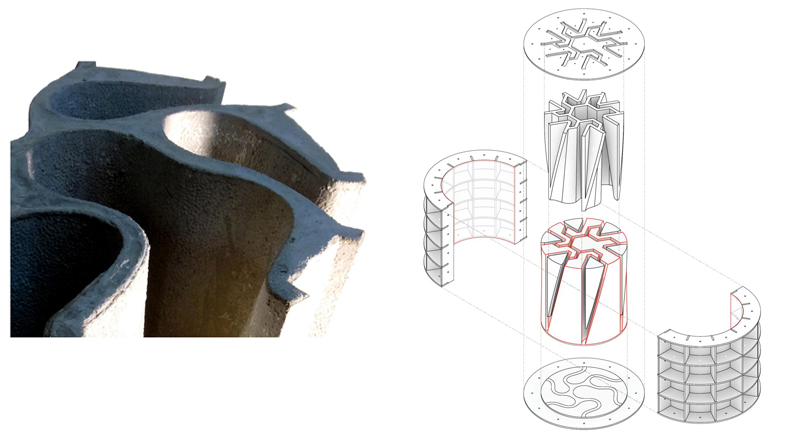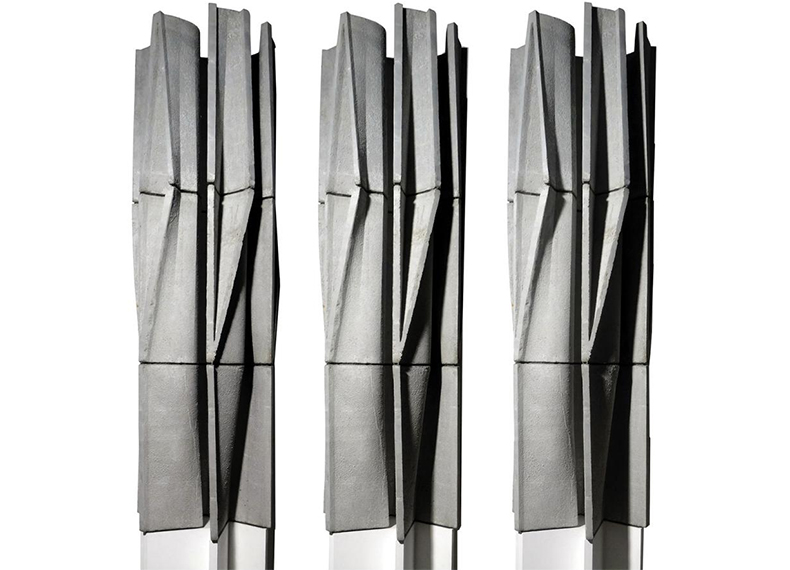 柱 9:缠结和开裂
Column 9:Entangling and Cracking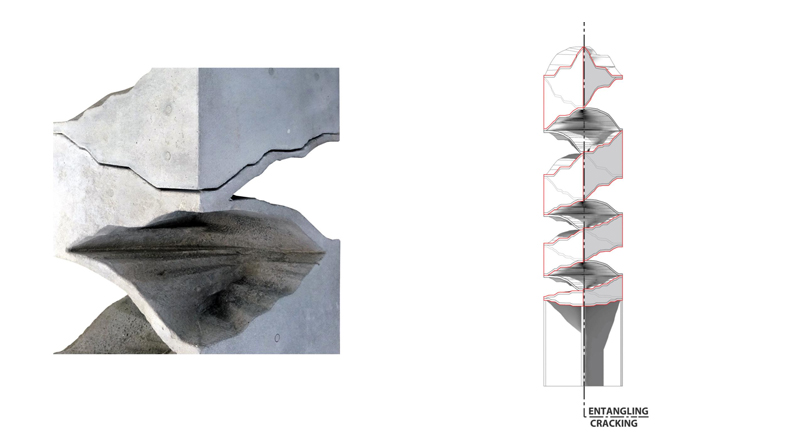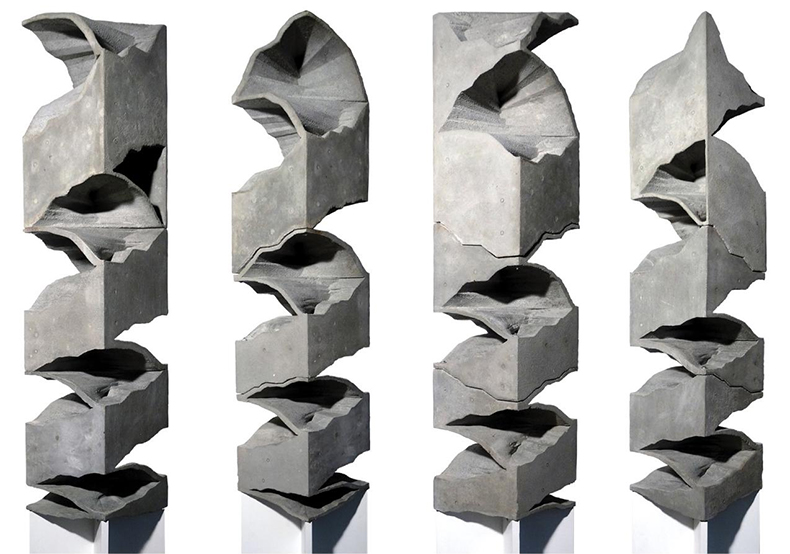 作者简介
Olivier Ottevaere,建筑师,教育家。2010年于英国建筑联盟学院担任指导教授,2012年起于香港大学担任助理教授并成立独立工作室:Double (O) Studio。
Ottevaere致力于混合物理实验和几何构建的研究,探索创新空间体验,追求灵活的结构原则、物料属性及建造程序之间的结合。他的设计作品及研究理论多次刊登于Phaidon,Lotus International, Architectural Record等建筑杂志。他的作品「House me Tender」运用活式预制单元系统,探索香港高密度住宅个性化的可能 ,获得MIPIM《建筑评论》建筑评审未来项目大奖颁发「最佳住宅项目」。
BIOGRAPHY
Olivier Ottevaere is an architect and educator whose Architecture work is conducted through physical prototyping and informed by geometrical organizations and digital processes. Integration of active structural principles, properties of materials and procedures of construction prompt the design pursue at the onset of each of his projects.
Since 2012, he is the founding principal of Double(o) Studio, an architecture practice based in Hong Kong.
Previously, he has practiced architecture in New York, London and Portugal.
He is the recipient of several international awards. 'House me tender', his current precast research work, received Best Residential future award 2015 from the Architectural Review/MIPIM. He was also recently awarded Perspective 40 under 40 Asia-Pacific design awards in Architecture. His series of timber structures, The Pinch, The Sweep and The Warp won numerous international awards, such as Best World Small Project of the Year 2014 by the World Architecture Festival, Best Experimental Project by Chinese Architecture Award and Best of Best Category by Architecture & Design Awards-Asia-Pacific.
www.doubleostudio.com
---
版权声明:本文已获作者授权,转载请通过邮件或电话与有方新媒体中心取得授权。
投稿邮箱: